In the summer of 1944, German landmines destroyed San Miniato's Teatro Verdi, a small but lush building inspired by Milan's Scala.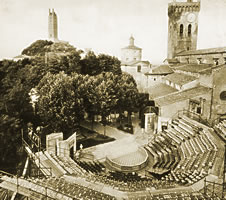 Three years later, thanks to four men from San Miniato itself -who were determined to improve the conditions of the city, still devastated by the consequences of the war- the foundations for a new kind of theatre were set. The aspiration was to be able to reach out to the people, understanding their tensions and aspirations. To do so, they decided to hold performances in public meeting places, such as squares and churches.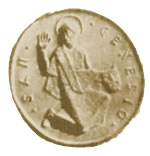 The Institute for Popular Drama started its activity dedicating a theatre piece to Saint Genesius, patron of San Miniato and protector of mimes: in August 1947 Henri Ghe˛n's "The Mask and the Grace" was presented; in the play Genesius, formerly a pagan actor, was struck by Grace while acting and converted to Catholicism. The show, directed by Alessandro Brissoni, was highly successful, the reviews were positive and the Festival was praised by journalists, especially Silvio D'Amico who became its main supporter right up to his death.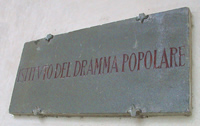 The Institute for Popular Drama was born, as they wrote in the first statute, "to give back to people 'their' theatre; to turn theatre into a guiding light for social evolution. The Institute proposes a different structure and organization in theatre, in order to make it truly accessible to the people... Since theatre, beyond its artistic and cultural function, must have an ethical and social function, the Institute for Popular Drama will present works with a Christian inspiration and background, in order to accomplish its educational task."
The difficulty of finding such plays was increased by the rule of presenting only never-seen-before works; still, this "bond" was respected in almost all of the fifty-five editons of the Festival.
Don Giancarlo Ruggini was appointed as Artistic Director of the Institute in 1948, and became its tireless promoter for over twenty-five years. Eliot's "Murder in the Cathedral", directed by Giorgio Strehler, was a huge success and determined the final affirmation for the Institute of Popular Drama nationwide.
The following years saw a large number of masterful directors coming to San Miniato, such as Orazio Costa, Luigi Squarzina, Franco Enriquez, Sandro Bolchi, Aldo Trionfo, Sandro Sequi and Krzysztof Zanussi.
Among the authors of the plays, besides Ghe˛n and Eliot, were Copeau, Bernanos, Greene, Claudel, Fabbri, Silone, Pomilio, Luzi, Wiesel, Mann, Munk, Walcott, Strindberg, Elena Bono and even the Pontifex Karol Wojtila. The best actors in the country came to work at the Festival and, in many cases, started their careers here: Giulio Bosetti, Ernesto Calindri, Rossella Falk, Arnoldo FoÓ, Carla Fracci, Nando Gazzolo, Giancarlo Giannini, Remo Girone, Giuliana Lojodice, Evi Maltagliati, Anna Miserocchi, Valeria Moriconi, Gastone Moschin, Ave Ninchi, Ilaria Occhini, Gianni Santuccio, Giancarlo Sbragia, Mario Scaccia, Aroldo Tieri, Luigi Vannucchi, Massimo Foschi, Eros Pagni, to name but a few.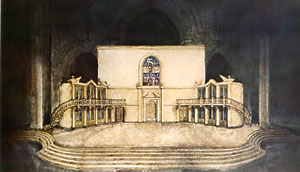 The Institute for Popular Drama of San Miniato, the oldest production Festival in Italy, has unique features; all the work that is presented belongs to the so-called "Theatre of the Spirit". All of the plays deal with the purpose of life and its pursuit, sometimes a conflictual and unresolved one, and they wish to find a higher response, detached from that which our everyday life might offer. A dialectical and thrilling relationship with 'otherness'derives from this, a research that is not seen as an oppressing limit but as a possibility of answering the fundamental questions of human existence. The plays' Christian inspiration is absorbed and accepted as a primal essence and a deep motive in the interpretation of history, as a source of questions and possible answers, as our cultural, social and spiritual roots, as an opportunity for a new life. An authentically popular Drama, not a 'confessional' theatre. Using cultural and religious references of our Western world, it demands a different answer; sometimes a difficult one, sometimes an extremely painful one, but still the only one worth spending one's life for.